Why do you need a DAC ?
Digital to Analog Converter
MyDAC is a Digital to Analog converter. Use it to connect your computer, television, Blu-Ray, CD or DVD player etc. to your amplifier. It is really simple to use, simply select STANDBY, USB, COAX, OPTO by turning the wheel.
A digital to analog converter is an essential part of true quality stereo sound.
Engineered for performance
Micromega has packed all the essential components for high quality sound into a compact box.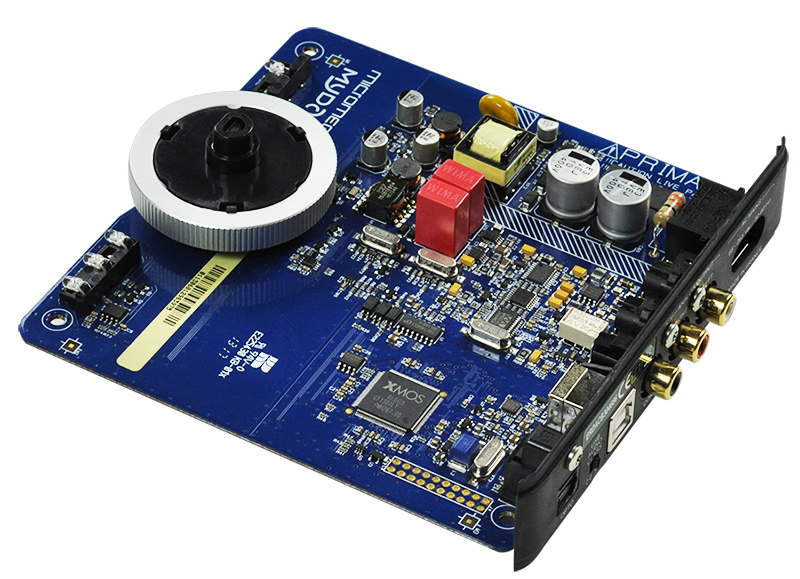 Ultra-fast quiet power supply
No capacitor in the path of the audio signal or power supply
Incredibly low jitter(< 50ps)
Asynchronous USB port (class 1 or 2 up to 24-bit / 192kHz)
OPTO and COAX up to 24-bit / 192kHz.
The MyDAC gives you top class sound; as certified by numerous websites and magazines worldwide.
Connect all of your devices
When you use the USB port, the speakers will recognise any audio input as a sound card and any sound which would normally be played on your computer speakers will now come out of your stereo speakers.
Films, your personal music library and music streaming (Qobuz, Deezer and Spotify) can all be played through your speakers.
You can use the COAX and OPTO digital terminals to connect a TV, your TV decoder, a CD, DVD or Blu-Ray player, a sound server and even a games console.
They will all be played with 24-bit / 192 kHz  high definition sound !
Characteristics
Net weight : 0,5 kg
Length : 140 mm
Width : 150 mm
Height : 35 mm
Voltage : 85-150 or 180-265 Vac / 50-60Hz
Press reviews